"THIS is the concise bible of employees engagement theory and practice..."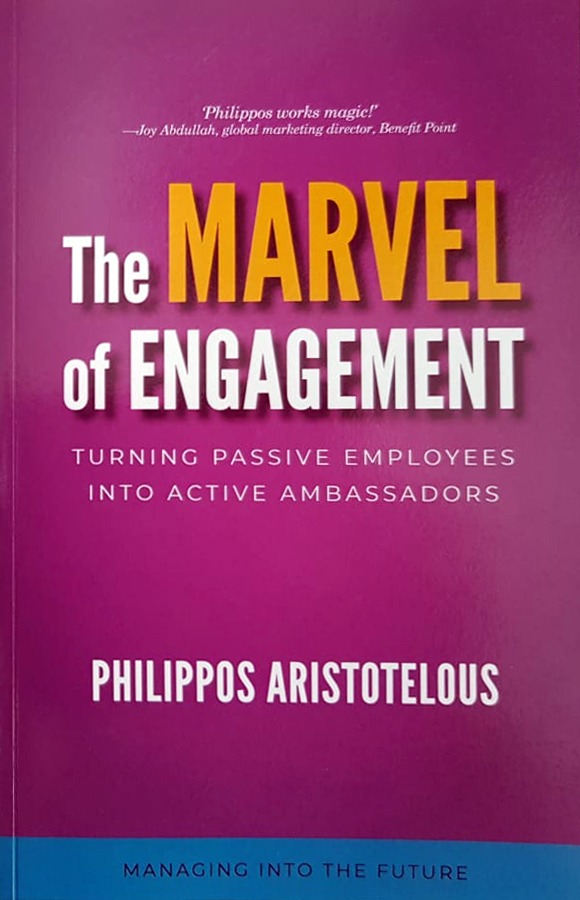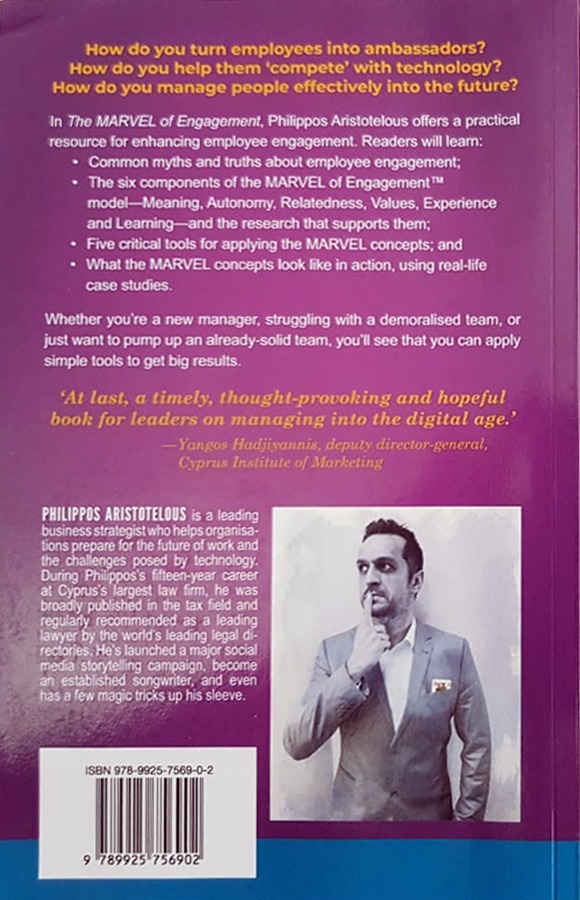 The MARVEL of Engagement™
Turning Passive Employees into Active Ambassadors
In The MARVEL of Engagement, Philippos Aristotelous offers a practical resource for enhancing employee engagement.
Readers will learn:
Common myths and truths about employee engagement;
The six components of the MARVEL of Engagement™ model—Meaning, Autonomy, Relatedness, Values, Experience and Learning—and the research that supports them;
Five critical tools for applying the MARVEL concepts; and
What the MARVEL concepts look like in action, using real-life case studies.
Whether you're a new manager, struggling with a demoralised team, or just want to pump up an already-solid team, you'll see that you can apply simple tools to get big results.
Praise for the MARVEL of Engagement
Thank you Philippos Aristotelous for a most enjoyable and thought-provoking presentation to our partners today, on the importance of #EmployeeEngagement! The 6 components of MARVEL are excellent pillars to build upon.

Evelina Georgiades

Director Of Dr. K. Chrysostomides LLC
'At last, a timely, thought-provoking and hopeful book for leaders on managing into the digital age. Well-structured and balanced with concepts, stories and practical tools for enhancing engagement in the workplace of the future. I highly recommend The MARVEL of Engagement.'

Yangos Hadjiyannis

Deputy Director-General, Cyprus Institute of Marketing
The MARVEL of Engagement provides honest, thought-provoking and fascinating insight into the challenging world of future-focused people management. It offers compelling concepts and highly useful tools for developing and improving employee engagement. Leaders who understand that highly engaged employees are, in essence, active promoters and ambassadors of their business will find this book an inspiration.

Despina Panayiotou

Deputy Head of Legal department, RCB Bank Ltd
Written in a conversational style with stories and real-life examples to illustrate key concepts, The MARVEL of Engagement touches on the increasingly challenging topic of employee engagement in the modern professional workplace. It provides truly insightful tips and practical tools for those that wish to achieve the best in motivating their teams.

Kyprianos Christofides

Partner, KPMG Limited, Cyprus
Having had the pleasure of working with Philippos, I can say that he is the epitome of the virtues he sets down in MARVEL—he demonstrates resilience, persistence and stamina. He has not only the ability to help employees become more engaged and therefore more productive, but also the ability to help managers and directors motivate and engage themselves so they can lead by example.

Marianna Lamari

Partner, Kyriakidou, Lamari LLC
I have recently attended a two-day seminar called 'The MARVEL of Engagement: Motivation management for improved performance' by Philippos and was very impressed. The seminar was managed in an exceptional manner by him and he fully engaged the participants. There were a lot of group discussions, a lot of teamwork and a lot of fun. I would highly recommend him and hope to attend other workshops or seminars by Philippos.

Andreas Stavrou

Experienced sales and marketing manager
Professional. Educated. Knowledgeable. Communicator. I strongly recommend him. Well Done Philippos. I am confident about your success.

Marios Melas

Procurement Manager at KEAN SOFT DRINKS LTD
I've had the pleasure attending a couple of seminars organised in the legal sector, with Philippos as key speaker. The latest one was BEST LEGAL VI Annual Conference. Justified from his knowledge and experience in legal practice for many years, his approach in his opening speech in the First Plenary session, was unique and gave all of the attendees a feeling of comfort, that the future may be here, but "Surviving and Thriving in a World Constantly Shaping by Technology" (sic), can be future proof for professionals, when fundamental key factors are present. Having said that, Philippos knocked it out of the park in the evening's session, when, he 'marvelled' the audience with his workshop in management of a professional service firms. His approach was hands down, motivational, inspiring and highly hopeful that a boss can be a leader just by following Philippos's M.A.R.V.E.L. concept of engagement. His skills and views in company leadership strategies make him an invaluable addition to your company's development and performance, while his fun and friendly personality are just the icing on the cake of his many other qualifications. PS: If by any chance, you are a chief executive and reading this, his latest book "The MARVEL of Engagement" is highly recommended.

Constantinos Pavlou

Lawyer / Managing Partner at Constantinos Pavlou & Co LLC
Unleash your own MARVEL hero now!