"One of the most entertaining and useful guides on living a fuller life."
- GOLD MAGAZINE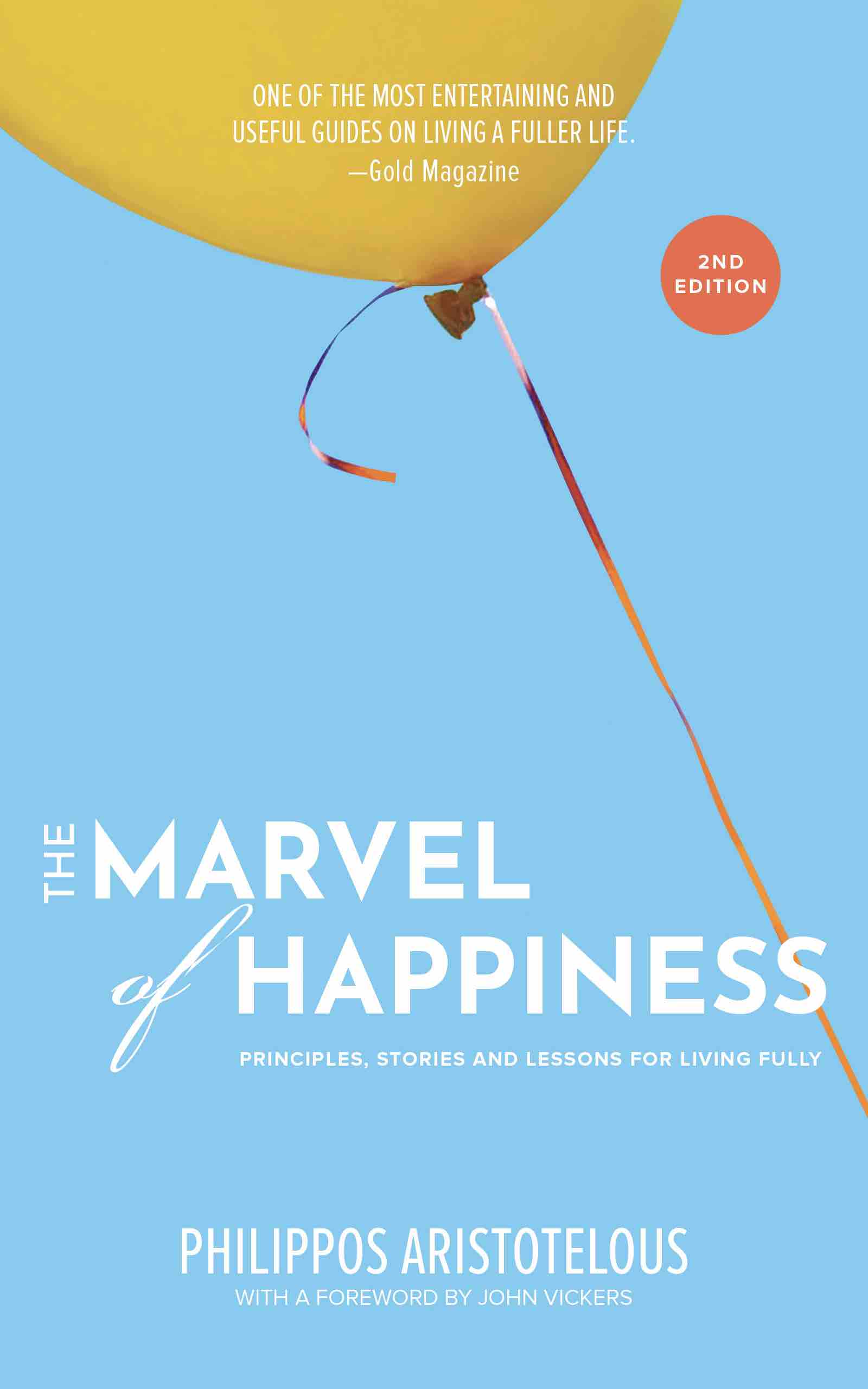 The MARVEL of Happiness – 2nd Edition
Principles, Stories & Lessons for Living Fully
"One of the most entertaining and useful guides to living a fuller life" – Gold Magazine.
2nd Edition, substantially expanded and upgraded, published on 28 June 2023.
HAPPINESS MIGHT NOT BE WHAT YOU THINK
Anyone who promises a magic recipe for happiness should be regarded with suspicion. With The MARVEL of Happiness, Philippos Aristotelous offers something far more profound. In this second edition, he continues and expands his compelling exploration of 'the good life', weaving together insights from philosophy, psychology and personal experience.
Through thought-provoking stories and practical lessons, Aristotelous delves into the seven deadly myths that may be hindering your pursuit of happiness and uncovers the MARVEL principles that will empower you to construct a holistic sense of well-being.
Offering deep understanding and a refreshing perspective, Aristotelous challenges conventional notions and invites you to travel your unique path with The MARVEL of Happiness as your companion. The adventure awaits—unlock your version of happiness and discover the marvels that life has in store.
Readers will learn:
The seven deadly myths of happiness;
The six components of the MARVEL of Happiness—Meaning, Autonomy, Relatedness, Values, Experience and Learning—and the research that supports them; and
A plethora of personal stories and anecdotes from the author's life driving the lessons home.
Praise for the MARVEL of Happiness
A magnificent synthesis of several streams of research on "the good life." But beware, Aristotelous pops the balloon of thinking that being thin, rich and famous is a good thing. In true Greek fashion, he returns to the wisdom of Thales of Miletus and the other Seven Sages, not that upstart, Socrates, who out-marketed them centuries later.

Richard Boyatzis, PhD, Distinguished University Professor, Case Western Reserve University

Co-author of the international best seller, Primal Leadership and the new Helping People Change.
This is an impressive and timely work on the foundational ingredients for a meaningful life written in a jargon-free and accessible style by a master of the English language. Philippos Aristotelous has done a thorough and holistic investigation on the subject of happiness, exploring the written record ranging from the philosophical contributions of the ancient Greeks and Romans to those of contemporary thinkers. He skilfully weaves a story on the nature of happiness based not only on diversified empirical studies but also, and most importantly, by his own direct personal experiences. It is a book that deserves wide circulation, promising to help readers overcome a variety of illusions that obstruct the path towards self-actualisation and a fulfilling and happy life. I highly recommend it!

Kyriacos C, Markides, Sociologist and Professor (Ret.) University of Maine

Best Selling Author of The Magus of Strovolos and The Mountain of Silence
Aristototelous, a successful attorney as well as author and songwriter, functions out of both sides of his brain as a linear legal thinker, as well as a creative ie. author and songwriter. Philoppos captures both sides of the brain in his concept of achieving happiness. He helps us move toward self-actualization whether one is a straight line point A to point B literalist or a creative who skates the universe.
As I say – Sign Me Up!

Pam Mark Hall - Six-time Grammy nominated Songwriter/Producer
The book is packed with quotes from everyone from Aristotle and Schopenhauer to Seth Godin and Derren Brown (all properly annotated in over 250 footnotes) and, perhaps more importantly, sup- ported by stories from his own life, which reveal both success and failure, doubts and certainty, correct and wrong decisions. He notes, 'The fact that you are reading this book right now, a book on happi- ness, is a testament to the relentless audacity of a creative child trapped inside the body of an adult. Meet yours truly.'
It's a pleasure to meet Philippos Aristotelous, and he is absolutely right in his belief that the universal quest for happiness is a Marvel- lous pursuit indeed.

John Vickers, Senior Executive Editor, English Media, IMH
The Marvel of Happiness puts forth a method towards fitting together the pieces of the happiness puzzle. For so many of us these puzzle pieces never quite fit and in the pursuit of this we often question "why?" or "what's missing?" This is a must read for those seeking answers to these questions and for those looking to align and place the pieces of their own happiness puzzle together.

Anna McAfee, Author of How a Hashtag Changed the World
It's a book with plenty of breadth and depth. You will read about the meaning of meaning, autonomy as a relative concept, relatedness as enriching interaction, experience as past exploits and future endeavors, and learning as an essential pivot for the pursuit of happiness.You will not become happier after you read this book but you will learn a lot on how to get there. And you might well be persuaded to take some new actions so you enjoy the journey.

Dimis Michaelides - Author and Facilitator in innovation, creativity and leadership
The Marvel of Happiness." An incredible book! Those who know him will agree that he's a deep soul with artistic talents that include composing music and playing the piano. Oh, and he writes books too! I was really impressed with the updated version and left this review on Amazon: "Perhaps the most comprehensive book ever written on happiness! Written with humour, wit and vulnerability. The pages are packed with a mountain of research to support the author's thesis based on his MARVEL acronym. The author cleverly ties it all in with entertaining and personal anecdotes that point the reader towards the essential ingredients of what we all yearn for - happiness! Definitely an eye opening book that led me to question, in a good way, my long held beliefs about happiness.

Thales Panagides, entrepreneur, author of Odyssey to the Heart
Reading through the pages of the book is like riding a fast car with a smooth engine, the use of the English language and the writing style prompt the reader to turn the pages at exhilarating speed. The richness of sources the author uses to inform his thesis, ranging from ancient academics to modern day practitioners, provide a wealth of knowledge and ideas that sustain his 'marvel' scheme in a vigorous and alluring manner. It is certainly difficult to write a book on happiness. Philippos succeeds in producing such a book that, we, as readers, can embrace since our choice to read it, as the author says: "[…] is a testament to the relentless audacity of a creative child trapped inside the body of an adult."

Dr. Vicky Triga- Assis.Prof. Dptm of Communication and Internet Studies, Cyprus University of Technology
Initially I was curious about the book, but while reading it I began to feel that it was important and relevant for my life to get some structured, well-reasoned answers. I got them here, and I hope you will get them too. Philippos helps you throughout the MARVEL journey with his wisdom, humour and time-proven stories and lively examples, so this should well become on the top of your must-reads.'

Jānis Taukačs, Partner, Tax & Customs, Sorainen